Do you believe this was Henry III's first 'love token' given to Anne Boleyn? It's a combination whistle, toothpick, ear cleaner (okaaayyyy. . . ) and salt spoon.
You'll never worry about crud caught in your smile with this snazzy gift!
I've written to the Victoria and Albert Museum, where this is supposed to be housed, asking for more information.
The picture of the piece shows up in a lot of online blogs and Pinterest boards, but not in any museum collection searches I've done online.
When I get a response, I'll share it.
Jewelry was a key ingredient in the game of one-upmanship at the monarch's court in Tudor England.
What was worn differed depending on the gender and rank of the wearer.
If you were royalty, the expectation was that jewelry and other trinkets made of gold and precious stones, set in unique designs full of meaning were given freely to you by anyone who ever expected to get your attention again.
If you wanted a royal favor, you'd begin by sending a jewel with your letter.
The bigger, the better.
". . . actually, you SHOULD have spent more . . . I'm just sayin. . . "
Elizabeth I famously 'meh'd' the jewels sent to her by Mary Queen of Scots as well as Elizabeth's love-rival
GRRRR!!!!
Lettice Knollys.
She once let Lettice stand for hours, waiting for a quick word with the queen.
Elizabeth finally deigned to send a minion to tell Lettice the queen was 'unavailable' - and that was after Lettice sent 'a jewel' along with a letter to Elizabeth.
. . . And it never will be, Lettice.
Jewelry also sent out messages, read loud and clear, by the Tudor court.
Pearls were worn to advertise the purity of the wearer.
No surprise, then, that Elizabeth I had pearls attached to her clothes, her hair, her necklaces, her fan's handle - pearls all over the place.
Yes, Captain Obvious, we get it. Purity. Virgin Queen.
Back when she answered to Lady Elizabeth, the queen was painted wearing a couple of monogram-style pieces that appear to have belonged to her disgraced mother.
Monograms were displayed so nobody forgot family names.
"A" is for "Anne" - is this Lady Elizabeth's teen-aged rebellious phase?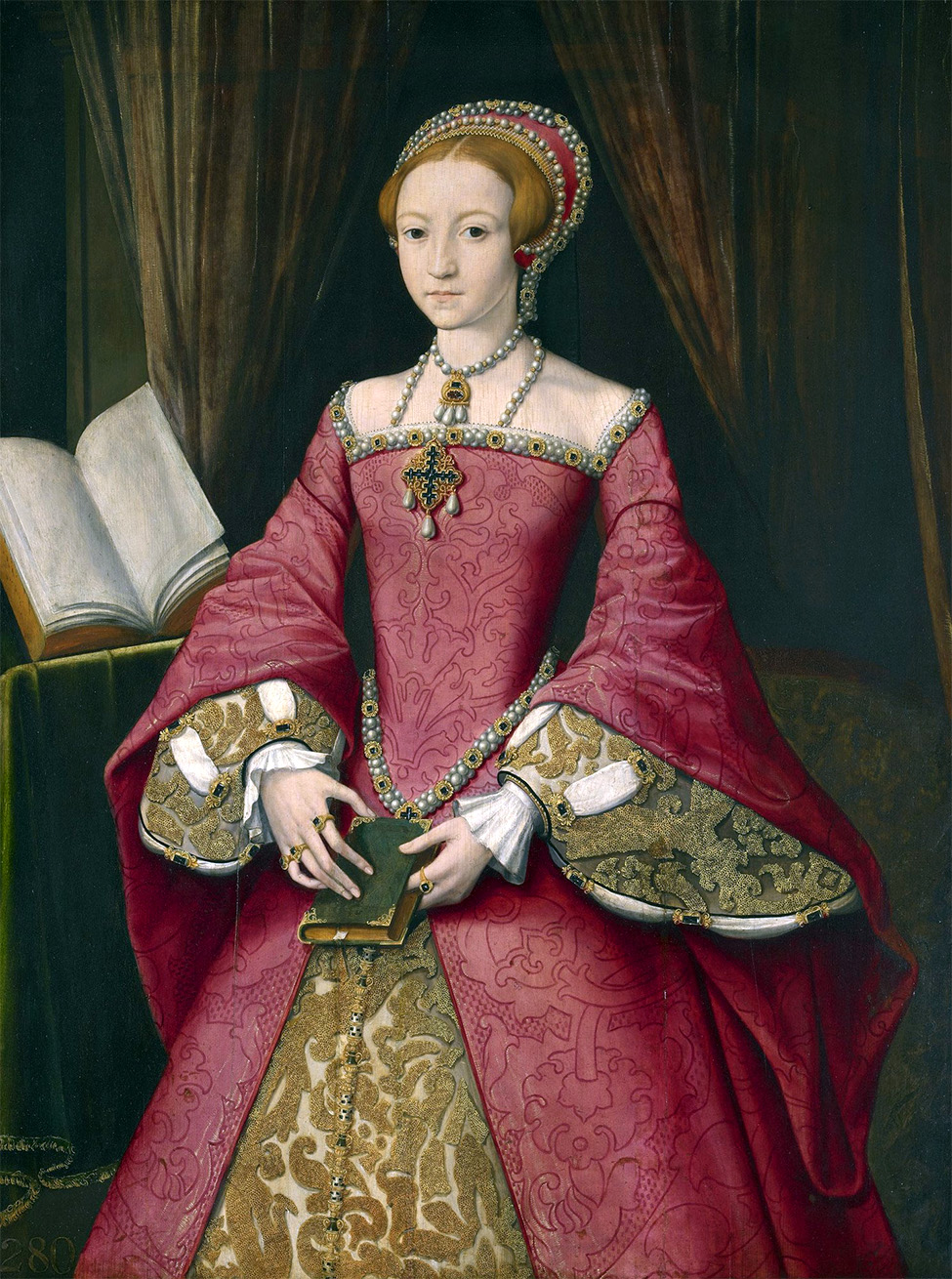 "I dunno, it's probably her mothers' but between this sore on my leg and her bitchy sister, I just don't have the strength to argue with her." - what Henry VIII maybe thought, but never said, about Elizabeth wearing her mother's jewelry.
Monogrammed
anything
never goes out of style:
Nice girls wear monograms, and Mary the Quene is no exception to that rule.
Tudor men at court liked their jewels too.
Here in no particular order are details of some of the men's accessories, taken two weeks ago in the National Portrait Gallery: Tudor and Elizabethan.
St. George slaying Puff the Magic Dragon. . .Not really.
Henry Carey wore his chain of state on his very Henry VIII-looking corpulent magnificence.
Thomas Howard, who famously yanked the seal from the thick neck of this guy:
Thomas Cromwell - right before Cromwell got to cool his heels in the Tower of London, pre-axe.
Jewelry also made statements about the beliefs of the wearer.
Just in case anyone had their doubts about the Roman Catholic faith of Mary Queen of Scots, in this portrait she lets her jewelry do the talking:
"Do you see where my left hand is pointing? No, not your left, MY left. Yes. Right at the crucifix. Sign of the One True Faith. Heaven is not for Haters!"
For a very fine article about jewelry at the time of the Elizabethan court, click here:
http://www.elizabethancostume.net/jewelry/
You'll find a treasure trove of information.
Thank you,
Leed, Drea. Jewelry in Elizabethan England
[Article] ©2010. Dayton, OH: Author. Retrieved Jan 13 2010 from the World Wide Web: http://www.elizabethancostume.net/influence.html
!!!
Wonderful cross choker-style necklace on Mary I; but she's painted to look like a scold.
Prince Edward, painted shortly before ascending the throne in 1547 - some bling, but not as much as he'd wear later, as king.
Thomas Cromwell - at his arrest his chain of state was rudely torn from him by this guy: (see next picture.)
Duke of Norfolk, noted pool-hall hustler. (Not really.) Notice his manly chain of state.
NPG Anne Boleyn - like all nice girls, she wore proudly wore her monogram.