It doesn't seem fair to remember Amy Robsart for her graceless salaam down a staircase; would you want to be associated with

a clod move that killed you - for five hundred years?
Of course you woul

dn't.
And n

either would she.
Amy Robsart Dudley was born in the 'phoenix rising

'

T

udor period - 1532/3.
Also born then:
Elizabeth I

and Robert Dudley.
Robert Dudley and Amy Robsart

were

married by age eighteen in what seems to have been a love match

; t

hey tied the knot

in a June wedding in 1550 while their king, Edward VI (aged thirteen at the time) watched.
So romantic!
"Yeah, watch your step there, babe. We're cool, we're cool. . . "




The new Mr. and Mrs. Dudley received generous property gifts from both of their parents - they were married in 1550, which was before the senior Mr. Dudley became involved in the unfortunate 'Lady Jane Grey' incident (which left the entire Dudley gang broke, broke, broke as well as homeless) - and the happy newlyweds settled

into country life.
Three years later
Dudley's father made

his

bold move to secure the throne for his own family - by marrying

his son Guildford

to Lady Jane Grey.
Jane Grey was a niece of Henry VIII and cousin to the teen-aged and very ill kin

g,

Edward VI.
Edward VI

, coughing his brains out and r

ealizing he was circling the dra

in
Never a good feeling.
put pen to vellum and formally named Lady Jane Grey's mother's (non-exist

ent at the time) male heirs as his successor.
Dudley Sr. translated that to mean '

Lady Jane Grey and her husband, Guildford Dudley.'
Playing fast and loose with the details, however, was not in Edward VI's half-sister, Lady Mary's, rule

book.
She saddled up her pony and whistled for all of her loyal followers to ride with her to London to claim the throne for herself - just like her Daddy had promised

, five years earlier.
"It's me, Mary, your undoubted quene! And look, my li'l sis, Elizabeth, is right behind me!"
Robert and Amy Dudley were forced apart when Robert w

as sent off to do some serious Tower (of London) Time
Tower Time - will you walk out? Or will you go feet-first? It's alllll up to the monarch! Yay! Fun game!
and Amy was left without much money, and in fear of imminent widowhood if the headsman's axe took off the head of her husband

- as had happened to her father-in-law.
She

's
recorded as having visited her husband during his

Tower Time.
He was broke, which meant she was broke, which meant she had to find friends with whom she could stay awhile, until her fortunes changed - hopefully for the better

.
Perhaps Dudley's prison time was when she became used to the idea that Robert was never going to be a homebody, sitting next to her by their cozy hearth; even after his Tower Time was over in October, 1554, he spent very little time with his M

issus.
Robert Dudley, like his father and his grandfather before him, enjoyed

the pursuit of

status, property and cold hard cash available to clever courtiers who pleased their monarch through flattery, service and sucking-up

.
Amy, whose feelings seem not to have been

considered at all, was left at home.
A lot.
No

husband.
No children.
Just Amy, all by her

self.
In her five years as queen of England, Mary I caused a fair amount of trouble by marrying a Spaniard, scared a fair amount of life out of her half-sister Elizabeth, a

nd

burnt a fair number of Protestants, until her own

(mostly unhappy) life came to an end.
And then?
Although
Mary did not especially like or trust her sister

Elizabeth, she was not one to go back on her own, or her father's

, word.
She made it clear her father's other daughter, Elizabeth, was to succeed her

as queen of England.
And the Lady Elizabeth, great friend of Robert Dudley since they were little kids of seven or eight, became Elizabeth

the Quene.
The still-married Robert Dudley struck gold

in the court of Elizabeth I.
She immediately named him Master of the Horse.
Elizabeth II's Master of the Horse - not a Dudley, but can still rock a feathered hat like nobody's business. *
It was a position guaranteeing the queen and Dudley spent a lot of time together. . . at court . . . while

Mrs. Dudley was left in the country . . .
The queen and her Master of the Horse

had a relationship that caused tongues at court to wag.
And wag some more.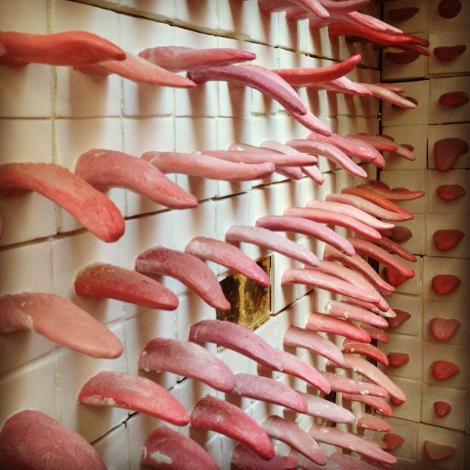 "Did you hear?"
By 1560,

Amy Dudley was living at Cumnor Place in (what is no

w) Oxfordshire.
She and Robert saw one another sporadically; how much she knew of the queen's massive crush on her husband isn't

clear.
The Spanish ambassador wrote, in early 1560, that Dudley planned to div

orce Amy in order to be free to marry the queen.
Spanish ambassadors, however, tended to paint England's royal family in the worst possible light, so take

it with a grain of salt.
What is certainly true is that Elizabeth I was not inclined to share Dudley with anyone, even if that 'anyone' happen

ed to be his wife.
She made sure Dudley was at court almost non-stop.
He was a Knight of the Garter.
He was a member of the Privy Council.
He was Lord Stew

ard of the Royal Household.
All those titles kept him busy.
While her husband spent time in Lo

ndon, Amy did what many corporate wives do to this day - spent her dough on clothes.
She wrote out instructions for a new frock of velvet, with a collar like the one on her taffeta gown - but not even new clothes make up for an absent husband.
"Knock, knock. Who's there? Not your husband."
September is a

betwixt and between time of year

; summer still hanging around, autumn not yet making inroads - a beautiful month

for a fair.
On the eighth of September, 1560, there was, in fact, a fair near Cumnor Place, at Abingdon

Abbey.
Amy

Dudley urged everyone, from scullions to maids, to go to the fair and to have a great time

; to leave her all by herself.
A couple of women stayed behind, but they kept to their rooms, and

so didn't have any information about what happened next . . .
Ass over teakettle. That kind of tumble will leave a mark.
Amy was discovered at the bottom of

a staircase, dead.
Her neck was broken.
She had two head injuries

.
Was she pushed?
Did she jump?
Did she get dizzy, lose her balance, and fall over the railing from the upper floor, landing at the bottom of the stairs and breaking her neck in the pr

ocess

?
It's a mystery.
And it's a mystery that plagued Robert Dudley the rest of his life; not as

proven

as the 'mystery' that will plague

, say, O.J. Simpson for the rest of his life, but close.
Even though Robert Dudley ordered a no-holds-barred investigation into his wife's death, and even though Elizabeth I distanced herself from Dudley for months afterward, it did no

good.
Dudley was stuck with the 'wife-killer' label for

life.
And poor Amy Dudley, lonely Amy, discarded-wife Amy, usurped-by-the-Queen

-of-England Amy, dead at the age of twenty-eight, with a broken neck.
Ouch.
*"Trooping the Colour, senior offices" by Carfax2 - Own work. Licensed under CC BY-SA 3.0 via Commons - https://commons.wikimedia.org/wiki/File:Trooping_the_Colour,_senior_offices.JPG#/media/File:Trooping_the_Colour,_senior_offices.JPG