There is a legend

about

Thomas Wyatt the Elder

's boyhood pets.
He and his father, Henry Wyatt (the staggeringly loyal friend

of

Henry VII) raised a lion cub

at their home, Allington Castle.
The cub grew to a

late-adolescent size

d lion.
(Big. And kinda scary.)
One day

young

Wyatt

encountered his pet lion outside the castle.
The lion either didn't recognize

him

, or it was having a really grouchy day,
NOT HAVING A GOOD DAY!!! GRRRRR!!!
when it sp

rang.
All extended claws, teeth and hackles, the lion momentarily forgot who was the bo

ss.
Wyatt's greyhound

would have

none of th

at;
Not on my watch, you don't, Mr. Lion!
the dog distracted the lion long enough

for his master to pull out a knife - which he buried right in the lion, killing it.
That's

one brave dog.
Faithful, too.
Wyatt and his family were members of

t

he Tudor court, which was home-away-from-home for courtiers.
Courtiers dogs, though, weren't included in the invitation to suck up to the monarch participate in court activities.
Too many dogfights

, too much poop on the floor.
AS IF!! No one at the Tudor court could be bothered to poop-scoop. It was a lot like today.
C

ourtiers were forbidden from bringing their canine hunting companions along for the fun unless expressly granted permission by the king or queen, and even then, dogs were kenneled.
Upper-echelon ladies had exemption to the rule

.
They

kept their yappy little mutts 'comfort' animals with them, on their laps, for warmth and companionship.
Queen Anne Boleyn famously lost her little lapdog, Purkoy (pourquoi?) when it sail

ed out an open window to its death on the ground below.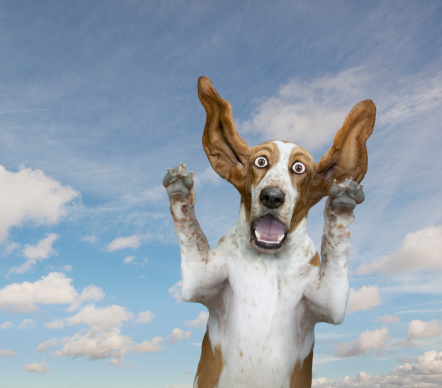 Ruh-roh.
The queen's love for the dog

was so great her ladies couldn't bring themselves to tell her the terrible news, and begged their king to break it to her.
Edward VI had a dog that slept in his bedchamber.
The boy-king's maternal uncle , drunk with power and delusions of running the monarchy, attempted to 're-situate' Edward

.
(Re-situate being a code word for 'kidnap.

')
When Edward's loyal pup raised

the alarm
Wrong.
That's better.
with his barking, the dog was shot and killed - but Edward's faithful doggie had first derailed the kidnapping

.
Mary Queen of Scots had a Skye Terri

er
D'awww. . . . so cute!
during the last years of her nineteen year

genteel imprisonment

.
When the Scotch queen was caught out? framed? for a plot to take over the throne of England from her cousin, Elizabeth I,

she was sentenced to death.
The execution took place in the Great Hall at Fotheringhay Castle

.
Mary Queen of Scots used the occasion to further the campaign of Catholicism; she wore red which symbolized Catholic martyr

dom.
After the ham-handed, entry-level execution slammed the axe into the side of Mary's head (I mean REALLY, dude? Your aim?) he had to whack away a few more times before her head was

severed completely.
As was customary, the dead queen's head was held up for all to see - except, oops, Mary Queen of Scots had kept it secret she'd been wearing a wig all those years, and her head took a floor-dive, revealing her grey hair

.
That wasn't the end of the macabre scene: a rustling from under

her skirts - then her skirts moved a little.
Everyone freaked, wondering how the

beheaded queen was pulling off that magic trick -

until her Skye Terrier

crawled out.
The poor traumatized animal had to be picked up from the blood-pooled floor; it whimpered and whined

most pathetically.
Animals know death when they encounter it; they know the smell of blood and what it means

.
Mary Queen of Scots dog didn't live long after

experiencing that particular horror.
Poor thing.
</3
Monkeys were brought to court; Catherin

e of Aragon was

painted with

a

pet monkey

although

Anne Boleyn was not a fan of monkeys; was it form following function, or vice

-versa?
Henry VIII had a ferret, although nobo

dy else was allowed to have one - which isn't necessarily a bad thing.
There's a reason many places ban ferrets as pets.
Yikes!
They aren't a particularly nice animal; they

were known for

nasty habits and sneaky ways combined with a propensity for biting.
Falcons and hawks were hunting companions but could also qualify as pets of a sort;

caged songbirds were also popular with some ladies.
KITTEHS RULE!!
And then

there were cats.
Henry Wyatt was (allegedly) saved by a cat during his time in the Tower of London when his great friend Henry Tudor was in exile and his not-great friend, Richard III

sat on the throne of England.
Starving and fairly frozen, a cat came to the window of his prison

.
Henry Wyatt held the cat to generate a little shared body heat, and the cat (according to the legend) from then on shared the bounty of whatever it killed with the man who'd save

d it.
Thus, both Wyatt and the cat

- well, if they didn't prosper exactly, survived.
Cardinal Thomas Wolsey was supposed to have had a cat as

a pet.
Interesting, that, given that the Catholic church's line on cats was that felines were demons, witch's familiars, harboring evil spirits and dem

ons.
O-ka

aaaayyyyy. . . .
Anyway, in 1484 (just one year pre-Tudor takeover!) Pope Innocent ordered 'burning of all

cats' (and the people who kept them) which resulted in fewer cats.
That resulted in more ra

ts.
More rats resul

ted in more fleas on rats.
Those fleas carried a little thing called the Bubonic Plague.
Funny, innit? No?
When the Church stopped demonizing kittehs and people stopped killing kittehs, the kittehs went back to killing the rats and VOILA! the plague prob

lem went away.
D

uring the coronation of Elizabeth I, a cat was 'burned to symbolize the release of demons.

'
Jesus.
Those Tudors p

layed hardball.