The attitudes towards death in a an era of plague, execution, war, childbirth and childhood mortality are better understood (as are most attitudes) when considered from the experience of a single person who lived a life affected by deaths no more, nor less, than others at the time.
Mary of Guise, among her other accomplishments, served to demonstrate to today's students of history the reasons for Tudor-era attitudes towards death.
Mary of Guise, French-born in 1515, was the oldest of twelve children (12! mon Dieu!)
Considered taller than the average woman for the day, according to a letter written by her mother, Mary was prone to catching bad colds.
At nineteen, she married the Duke of Longueville and in no time at all, she'd had two baby boys: Francis and Louis, in 1535 and 1537, respectively.
Her husband died two months before her second son; the boy, named for his father, also died as a child.
Ouch. By the time Mary of Guise was twenty-one years old, she'd buried her husband and was considered back on the marriage market.
Two kings were vying for her hand in marriage.
The first, James V of Scotland, wanted to renew ties with France - and all that lovely financial and military support that would come along with his bride.
The second, Henry VIII of England, whose marriage track record included one wife cruelly abandoned, a second wife executed by beheading, and a third wife who had died of infection post-childbirth, admired Mary's tall stature ('big.')
Mary's response to Henry VIII's proposed marriage was just plain funny: 'although my body is big, I have a small neck.'
(Play on words said by Anne Boleyn, pre-slice - "I have heard the executioner is very good, and I have a small neck.")
LOL!
Henry, your reputation preceded you; there were several jokes made at your expense among the royal babes of Europe about your blade-happy response to unwanted wives.
Thank you, Sarah Mensinga - for the horribly inappropriate laughter!
Mary of Guise and James V of Scotland (whose mother was Margaret Tudor - sister of Henry VIII) were married in 1537, against the wishes of Mary who understandably, was mourning the deaths of her husband and baby son.
While she was granted the sympathy vote by James V for her recent loss, business was business and she was married to him at age twenty-two.
Harsh, much?
She left her remaining son, the three-year-old Francis in France.
He was the new Duke of Longueville after the death of his father, and business was business, even for a toddler.
Again: harsh, much?
James V and Mary had two sons in quick succession in 1540 and 1541.
Both baby boys died on the same day in 1541.
!!!!!
On 14 December, 1542 she had a daughter: Mary.
Six days later, her husband, James V died.
How much harsher could things get?
Fortunately for Mary of Guise, the number of deaths thrown fast and furiously at her during the span of years between 1537 and 1542 slowed down to a trickle.
Mary's daughter, little Mary now Queen of Scots at six days old, was less mature than one would like to see in a monarch, and so her mother acted as regent on her behalf.
In 1543 Mary and Mary moved in behind the protective walls of Stirling Castle in Stirling.
"Keep that drawbridge up, fellas; I'm trying to raise a little girl in here." Stirling Castle



Mary and Mary remained there until 1548 when little Mary, Queen of Scots, was sent to France to be raised among the civility of the French with her fiance (arranged marriages were declared early back in the day) the son of the French king, Henry II.
While the girl-queen grew up secure and happy in France, it would have suited her better in her future dealings with her cousin, Elizabeth I of England had she grown up under a veil of fear and loathing.
Her relatively normal royal childhood didn't give her the requisite suspicious nature and duplicitous personality that the times called for in a (future) monarch.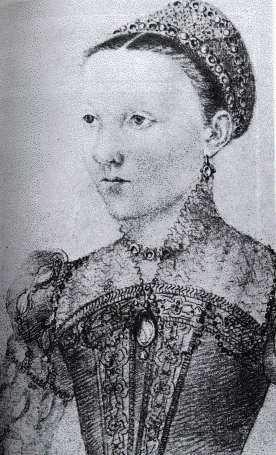 Young Mary Queen of Scots - less trust, more suspicion would have been better, dear.
Back in Scotland, Mary of Guise got word that Henry VIII wanted her daughter to marry his son (eww, cousins!) Prince Edward.
Of course Henry VIII wanted them to marry; it would effectively dissolve the Scottish/French alliance that was then a dark cloud north of England.
When it finally dawned on Henry VIII that the marriage wasn't going down as he wanted it to, he began a war with Scotland.
(Because that's how you convince an unwilling family to join forces with yours. ?!?!)
The war was delightfully named: the Rough Wooing.
Back and forth, forth and back, the English pushed in, the French and Scottish pushed out, on and on for years.
War, war, war.
When a plot to kill Mary Queen of Scots was discovered while Mary of Guise was visiting her child in France in 1550, she was understandably horrified.
At the time, she was in the midst of a public relations campaign, carried out by parading through the lands with banners showing Scottish castles recovered with the aid of the French.
It was sad news again for Mary of Guise when the son of her first marriage, the sixteen year old Francis, died.
(Of her five children, only one survived her; hence the opening of this post. Harsh times.)
Mary of Guise did a quick spin through England and while there met with Edward VI.
In the tradition of royalty recycling everything of value, Edward VI presented her with a diamond that had previously belonged to his third, and recently deceased, stepmother Catherine Parr.
While Edward VI and then-Princess Elizabeth met with Mary of Guise, according to records, then-Princess Mary refused.
Mary of Guise strengthened the French-Scottish alliance through her relatives who sat on, or very near, thrones throughout Europe.
After the death of the Protestant Edward VI and the crowing of the Catholic-and-I-really-mean-Catholic Mary I, Protestant Scots were held in check for a time.
After the relatively short reign of Mary I, Elizabeth I (another Protestant - although one who was quick to deny the 'all or nothing' attitudes popular at the time) took over.
The back-and-forth wars started up again; Mary of Guise, perhaps exhausted from a lifetime of fighting for a country not her homeland, died of congestive heart failure in 1560.
Her fey daughter, Mary Queen of Scots, raised a protected, darling-of-everyone beauty, made one after another error in judgment during her own reign and died, horribly, under the (allegedly indirect) orders of her cousin Elizabeth I.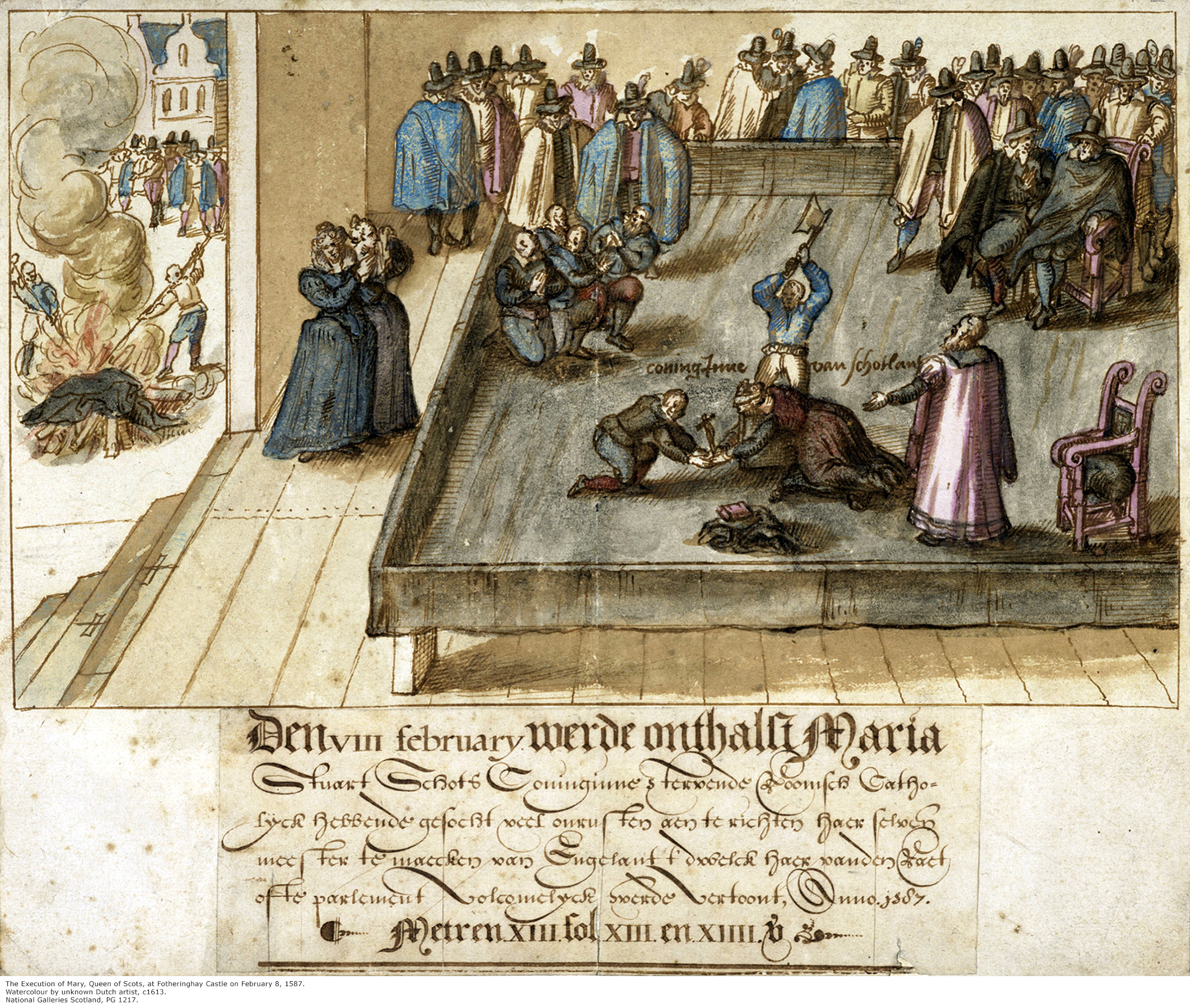 And a-one, and a-two, and a-three - enough with the practice swings; just DO IT!
With death never far away, the character of people in Tudor times was influenced by the awareness of the fragility of life. The best case scenario for them was to die with their affairs in order, and to realize they were about to die.
Mary of Guise lived that lifestyle.
The grief and mourning for seemingly constant deaths of family members; young, old, in-between was always her companion.
Harsh, much?